Calais Dover Ferry
Calais to Dover Special Offers
1-Day Short Breaks to France from £35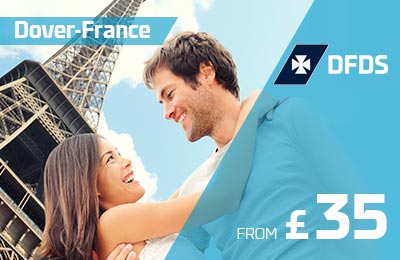 Book by 09/07/2019. Travel by 10/07/2019
Sail from Dover to Dunkirk or Dover to Calais and explore all that France has to offer. 1 Day return from £35 for car & up to 9 people.
P&O Ferries short breaks to France from £89 return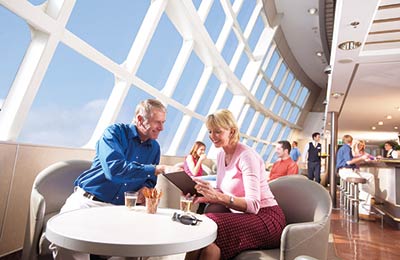 Book and travel by 14/12/2019.
Sail with P&O Ferries. Take your car & up to 9 people. 3-day returns from just £89 (Mon-Thur) and £94 return (Fri-Sun). 5-day returns from just £99 (Mon-Thurs) and just £103 from (Fri-Sun). Just book 2 days before your departure.
Short Breaks to France from £35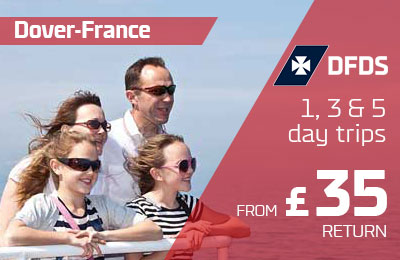 Travel before 17th December 2019, book this great offer and save.
Hop over to France and sail from Dover to Dunkirk or Dover to Calais and explore all that France has to offer. 1 Day returns from £35, 3 Day returns from £75, 5 Day returns from £85.
Quickly book cheap Calais to Dover ferries here with Ferrysavers. The Calais to Dover ferry route is operated by 2 ferry companies, DFDS and P&O Ferries providing a helpful connection from France to England. Ferrysavers will compare all prices and times for Calais to Dover to help you find the best deals but as well as that, we will also compare with Calais to Folkestone and Dunkirk to Dover to help you arrive in England relaxed and refreshed, knowing you got a great deal.
The lowest average price for Calais to Dover found by Ferrysavers customers recently is with DFDS, and is £66 each way.
Whichever ferry company you choose, you will find modern facilities and high levels of comfort on board your Calais to Dover ferry. Ferrysavers always has cheap prices for DFDS and P&O Ferries and great deals to help you save on your trip.
See below for ferry times and detailed guides about Calais and Dover.
Calais Information
Probably the most famous of French ferry destinations, Calais has been for decades synonymous with holidays in Europe. Calais ferry port is one of the busiest ports in Europe with up to 48 ferries a day departing from here on one of the busiest shipping lanes in the world. Eurostar trains depart from Calais Frethun station which is close to the Eurotunnel terminal, just outside Calais off junction 42 of the A16.
The town of Calais is the closest French town to Britain and this makes it a popular ferry port for British tourists heading to France and vice versa. The town is rich in cultural heritage and has a wide variety of traditional French shops and restaurants. The location of Calais ferry port is ideally situated; just a stone's throw from Calais town centre so you don't have to waste a moment of your time.
---
Dover Information
The town of Dover is possibly the UK's most famous ferry port, and is located in Kent on England's south coast. The city faces France across the narrowest part of the English Channel. Dover has always been a place of strategic importance owing to its location; some of the remains found there suggest that Dover was favoured by people wishing to enter England even during prehistoric times.
The town has many wonderful sights to visit, with Kearsney Abbey and St. Edmund's Chapel being the two biggest religious sites, and the famed white cliffs of Dover, as well as the massive Dover Castle, some of the most popular landmarks in the area.
Special Offers - Terms and Conditions
1-Day Short Breaks to France from £35
Terms: Standard Terms and Conditions apply. Offer is valid for 1 Day (24 hours) return journeys only. There is a £50 supplement for bookings made 24 hours before departure. ​​
P&O Ferries short breaks to France from £89 return
Valid on cars and high cars. Excludes Caravans/trailers, vans, minibuses, motorhomes, foot pax, motorcycles and bicycles, vehicles designed for commercial use. Excludes: 5th - 7th, 12th - 14th, 19th 21st and 25th - 28th April. 24th -26th May & 31st May. 2nd, 14th - 17th June. 11th July - 4th Sept,18th - 20th October.
Short Breaks to France from £35
Terms: Subject to terms and conditions. Excludes these dates: February 15-17, 22-24, April 5-7, 12-14, 19-21, 26-28, May 24-26, 31, June 1-2, 14-17, July 11-31, August 1-31, September 1-4, October 18-20. Offer is available on return bookings only, with a car and up to 9 people - or with a motorcycle, with or without side car and up to 2 people. Outward journey must start in Dover. Offers may be withdrawn at any time.
Reviews
Very easy and good journey.

Staff were very friendly.

Review by PAVI

Checked in early and managed to get an earlier crossing - everything was straightforward and efficient. Would definitely recommend.

Review by STEVEN WALSH

Great crossing, the staff were really helpful and the whole event went without a hitch. Would certainly use them again

Review by ROY GOUGH

The gentleman at the check in on return was wonderful, simply perfect customer service!

Review by CYRIL BLARET

Calais Dover quick and pleasant

fast check in. Polite, efficient reception even though I took the wrong operator queue and was redirected to DFDS, not a problem. Just how it should be!

Review by Anon