Larne Cairnryan Ferry
Larne to Cairnryan Special Offers
10% off Larne-Cairnryan + FREE Flexi Upgrade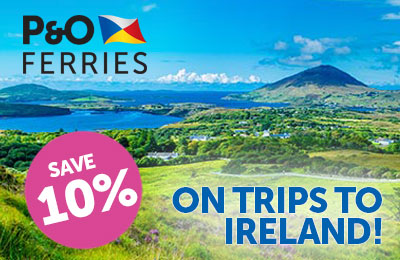 Book by 31/05/2019. Travel until 05/01/2020.
Sail with P&O Ferries on the Larne-Cairnryan route and get 10% off your booking. Plus get a FREE Flexi ticket upgrade (worth up to £40). With a Flexi ticket you can tailor your trip to suit your needs. Travel on either the sailing before or after the time you have booked. So you can relax if you are running a little late. Valid for single or return journeys, includes cars & high cars. Excludes foot passengers, motorhomes, motorcycles, freight & vans. Must be booked 48 hours in advance of travel.
Quickly book cheap Larne to Cairnryan ferries here with Ferrysavers. The Larne to Cairnryan ferry route is operated solely by P&O Ferries providing a helpful connection from Northern Ireland to Scotland. Ferrysavers will compare all prices and times for Larne to Cairnryan to help you find the best deals but as well as that, we will also compare with Belfast to Cairnryan and Belfast to Liverpool Birkenhead to help you arrive in Scotland relaxed and refreshed, knowing you got a great deal.
The average price found by Ferrysavers customers for Larne to Cairnryan recently is £139 each way.
Larne to Cairnryan ferries with P&O Ferries are comfortable and provide modern facilities to make your holiday start the minute you step on board. Ferrysavers always has cheap prices for P&O Ferries and great deals to help you save on your trip.
See below for ferry times and detailed guides about Larne and Cairnryan.
Larne Information
Larne ferry port is located very close to Belfast, the capital of Northern Ireland. Larne ferry port can be reached from Belfast on the A8 and also from Carrick Fergus on the A2. Larne ferry port is clearly signposted. Larne is a major passenger and freight port situated on the east coast of County Antrim.
---
Cairnryan Information
The port at Cairnryan is only 5 miles from Starnraer, and has good road connections to Glasgow and a long-term car park. Cairnryan is a small Scottish village overlooking Loch Ryan in the south-west of Scotland, set amongst some glorious countryside. Cairnryan is mostly notable today for its large, modern ferry port, and has been of vital importance in maritime history, due to its use during the Second World War. During the War Cairnryan's port had three piers and a military railway constructed by the army linking the village with Stranraer. These developments along with its strategic position of being closer by sea to Northern Ireland paved the way for Cairnryan to be regarded as a vital Scottish port ever since.
Reviews
Bought a car in Belfast and jumped on the ferry home. Excellent service all round.

Review by Anon

Only downfall is the price...ripping it! £257 return 2 adults I child and car....come on!

Review by RAONAID MCCROSSAN

Excellent

Review by WILLIAM COYLE

Well done. No issue travel.

Review by Jay