Portsmouth Caen Ferry
Portsmouth to Caen Special Offers
Spring Channel Hop: From £138 car+2 return.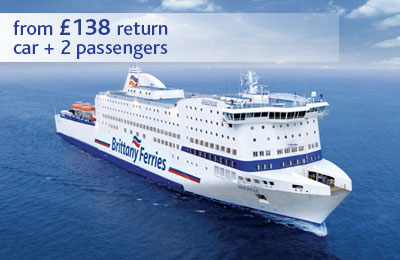 Book by 28/05/2019. Travel until 30/06/2019.
Sail with Brittany Ferries on any Channel route, up to 4 days away from £138 for a car and 2 passengers. Motorcycle and rider from £69pp return.Subject to availability and new bookings only. Travel can commence in the UK or France. Depart from Portsmouth, Plymouth or Poole and travel to Cherbourg, St Malo, Caen, Le Havre or Roscoff for a direct Channel crossing to France.
Quickly book cheap Portsmouth to Caen ferries here with Ferrysavers. The Portsmouth to Caen ferry route is operated solely by Brittany Ferries providing a helpful connection from England to France. Ferrysavers will compare all prices and times for Portsmouth to Caen to help you find the best deals but as well as that, we will also compare with Newhaven to Dieppe and Portsmouth to Le Havre to help you arrive in France relaxed and refreshed, knowing you got a great deal.
The average price found by Ferrysavers customers for Portsmouth to Caen recently is £142 each way.
Portsmouth to Caen ferries with Brittany Ferries are comfortable and provide modern facilities to make your holiday start the minute you step on board. Ferrysavers always has cheap prices for Brittany Ferries and great deals to help you save on your trip.
See below for ferry times and detailed guides about Portsmouth and Caen.
Portsmouth Information
One of England's busiest and most important ports, Portsmouth ferry port is located on England's southern coastline and thanks to the local bus networks and the road system it is only a short journey from the city's centre. One of the UK's largest and busiest ports, Portsmouth has a host of facilities for passengers, including a café, bar, bureau de change, ATM and 516 space multi-storey car park.
Portsmouth is the only city in England to have been constructed on an island, and the city is also the historic home of the Royal Navy and has the world's oldest, still functioning dry dock. The city's dry docks attract many visitors, as they currently house three British battleships, the most famous of them, the H.M.S Victory. But Portsmouth's attractions do not stop with the dry docks and Naval Centre, its waterfront houses, the Spinnaker tower, a wide range of shops and boutiques as well as many restaurants and cafes for visitors to relax and unwind in.
---
Caen Information
Caen's ferry port is around 3 miles from Caen at Ouistreham Harbour and is clearly sign posted from Caen and the surrounding area. A large university town, Caen has its own historic castle and two magnificent Abbeys. Following World War 2 the town was left devastated by bombings, however it has managed to rebuild itself to become the thriving centre it is today. The town's interesting museums and great shopping facilities, along with its rich history combine to ensure that Caen is more than just a port; it is a popular tourist destination in itself.
Reviews
Great overall experience, everything smooth and efficient. My only compliant would be the reclining seats given to us on the journey back. These were at the front of the lounge in the corner. There was no room to stretch legs out in order to use the recliner . One of us being 6 foot tall had an extremely uncomfortable journey back- very cramped. Theses particular seats should be reserved for children only

Review by Anon

Staff on board very pleasant and courteous. Crossing was very smooth and quick to disembark at destination Well done.

Review by JAMES STEWART

Dear ship captain and his team, thank you for accepting us at the last moment on board. We boarded the last passenger on board love and respect Yakup Taskinsoy

Review by YAKUP TASKINSOY

I think our only criticism would be that the toilets were a bit smelly , it was unfortunate that they were so close to the buffet restaurant . Otherwise everything was great .

Review by Anon

Didn't rate the normal cafeteria cooked breakfast ,paid the extra and had the better buffet breakfast in the restaurant on return trip

Review by Anon