Portsmouth Cherbourg Ferry
Portsmouth to Cherbourg Special Offers
25% Bank Holiday Sale to France with Brittany Ferries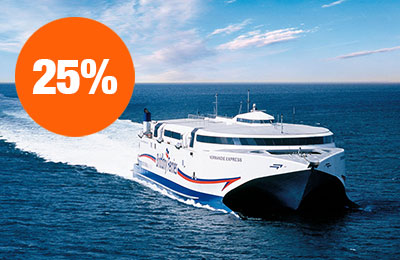 Book by midnight 27/05/2019. Travel until 03/11/2019.
Here's a great May bank holiday 25% offer for you with Brittany Ferries. Routes: Portsmouth-Le Havre-Portsmouth, Poole-Cherbourg-Poole and Portsmouth-Cherbourg only. Book by Monday 27 May inclusive, and travel from 31 May until 03 November 2019. Excludes onboard accommodation & foot passenger fares. Don't miss out book soon to get 25% off to France.
Spring Channel Hop: From £138 car+2 return.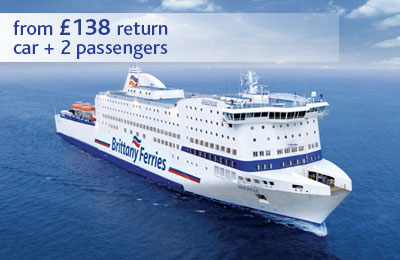 Book by 28/05/2019. Travel until 30/06/2019.
Sail with Brittany Ferries on any Channel route, up to 4 days away from £138 for a car and 2 passengers. Motorcycle and rider from £69pp return.Subject to availability and new bookings only. Travel can commence in the UK or France. Depart from Portsmouth, Plymouth or Poole and travel to Cherbourg, St Malo, Caen, Le Havre or Roscoff for a direct Channel crossing to France.
Quickly book cheap Portsmouth to Cherbourg ferries here with Ferrysavers. The Portsmouth to Cherbourg ferry route is operated solely by Brittany Ferries providing a helpful connection from England to France. Ferrysavers will compare all prices and times for Portsmouth to Cherbourg to help you find the best deals but as well as that, we will also compare with Poole to Cherbourg to help you arrive in France relaxed and refreshed, knowing you got a great deal.
The average price found by Ferrysavers customers for Portsmouth to Cherbourg recently is £120 each way.
Portsmouth to Cherbourg ferries with Brittany Ferries are comfortable and provide modern facilities to make your holiday start the minute you step on board. Ferrysavers always has cheap prices for Brittany Ferries and great deals to help you save on your trip.
See below for ferry times and detailed guides about Portsmouth and Cherbourg.
Portsmouth Information
One of England's busiest and most important ports, Portsmouth ferry port is located on England's southern coastline and thanks to the local bus networks and the road system it is only a short journey from the city's centre. One of the UK's largest and busiest ports, Portsmouth has a host of facilities for passengers, including a café, bar, bureau de change, ATM and 516 space multi-storey car park.
Portsmouth is the only city in England to have been constructed on an island, and the city is also the historic home of the Royal Navy and has the world's oldest, still functioning dry dock. The city's dry docks attract many visitors, as they currently house three British battleships, the most famous of them, the H.M.S Victory. But Portsmouth's attractions do not stop with the dry docks and Naval Centre, its waterfront houses, the Spinnaker tower, a wide range of shops and boutiques as well as many restaurants and cafes for visitors to relax and unwind in.
---
Cherbourg Information
The port of Cherbourg is one of the most popular entry points into France from the UK. Cherbourg links to Brittany via the E03 and Caen and the Loire Valley via the E46 or the N132. On the N13 from Paris and Caen, follow signposts for Cherbourg Ferry Port.
Officially known as Cherbourg-Octeville, this scenic port-town is the gateway to Normandy. Despite being best-known simply as an arrival destination, once you get past the ferry port walls you'll find a charming location with much to discover. Cherbourg lies on the Cotentin Peninsula which is home to some spectacular coastline and plenty of safe, sandy beaches. Within the port is La Cite de la Mer, where you'll find the largest aquarium in Europe and a nuclear submarine.
The town houses many restaurants serving excellent cuisine, boutiques, 19th century gardens and many open air markets selling the freshest of foods. The countryside of the Val de Saire area, east of Cherbourg, and the Hague peninsula, to the west, also have much to offer.
Reviews
Range of Food in bar and restaurant could easily be improved.

Review by Anon

We fancied a day out to France and Brittany Ferries offered great sailing times and a fast crossing. The whole experience is very well organised from the start and the onboard amenities are fantastic. The staff are really helpful and the free shuttle bus the other end just added to an amazing day out. Ferry Savers got us a great price and the ease of booking with them has got me planning another trip. Thank you Ferry Savers

Review by JAMES ROBERTS

Efficient and enjoyable trip

Would take this route again as it is time saving . Rather pricey for a single traveller. Found shopping facilities limited.

Review by Anon

Everything was as simple as it could be . We left and arrived on time, even the sea was calm .

Review by ANTHONY HARTWELL