Cherbourg Ferry Port
Find your ideal cheap Cherbourg ferry from Portsmouth, Rosslare or Poole with Ferrysavers, or use our compare price engine to search for cheap ferries to France, England or Ireland.
Find our latest information on cheap Cherbourg cross channel ferries, including ticket prices, crossing times and availability with Ferrysavers' price comparison engine.
Cherbourg Routes
Dublin to Cherbourg

/

Cherbourg to Dublin
Cherbourg Special Offers
25% Bank Holiday Sale to France with Brittany Ferries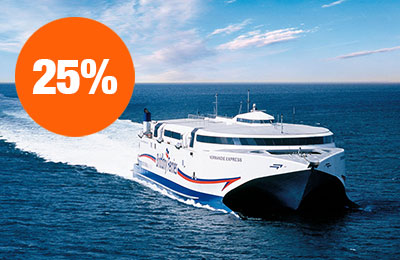 Book by midnight 27/05/2019. Travel until 03/11/2019.
Here's a great May bank holiday 25% offer for you with Brittany Ferries. Routes: Portsmouth-Le Havre-Portsmouth, Poole-Cherbourg-Poole and Portsmouth-Cherbourg only. Book by Monday 27 May inclusive, and travel from 31 May until 03 November 2019. Excludes onboard accommodation & foot passenger fares. Don't miss out book soon to get 25% off to France.
Spring Channel Hop: From £138 car+2 return.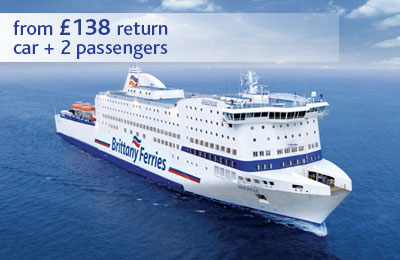 Book by 28/05/2019. Travel until 30/06/2019.
Sail with Brittany Ferries on any Channel route, up to 4 days away from £138 for a car and 2 passengers. Motorcycle and rider from £69pp return.Subject to availability and new bookings only. Travel can commence in the UK or France. Depart from Portsmouth, Plymouth or Poole and travel to Cherbourg, St Malo, Caen, Le Havre or Roscoff for a direct Channel crossing to France.
The port of Cherbourg is one of the most popular entry points into France from the UK. Cherbourg links to Brittany via the E03 and Caen and the Loire Valley via the E46 or the N132. On the N13 from Paris and Caen, follow signposts for Cherbourg Ferry Port.
Officially known as Cherbourg-Octeville, this scenic port-town is the gateway to Normandy. Despite being best-known simply as an arrival destination, once you get past the ferry port walls you'll find a charming location with much to discover. Cherbourg lies on the Cotentin Peninsula which is home to some spectacular coastline and plenty of safe, sandy beaches. Within the port is La Cite de la Mer, where you'll find the largest aquarium in Europe and a nuclear submarine.
The town houses many restaurants serving excellent cuisine, boutiques, 19th century gardens and many open air markets selling the freshest of foods. The countryside of the Val de Saire area, east of Cherbourg, and the Hague peninsula, to the west, also have much to offer.
Reviews
We went to France on night ferry not the most comfortable ferry as the chairs you reserve are not comfortable for the whole night. Kids room could do with improving as my daughter was really bored. Afternoon ferry much better.

Review by MARK MCGLONE - THOMSON

Such a smooth journey,,,I had to change my booked car but that was no problem. Well worth choosing the private lounge too. Can't recommend Brittany ferries enough

Review by PAUL HOLLAND

Great service to start our holiday. Thanks

Review by Anon

We had an overnight crossing which i wasnt looking forward too. However it really couldnt have been better. The food was lovely and the trip to France was a pleasant one. I would definately travel with Brittany ferries again and i would highly recommend them.

Review by JENI

Fantastic day out ferry great good night's sleep on time weather brilliant what more could we ask for great price also

Review by NIGEL SLADE